SYDNEY's selective schools are writing newsletters in Mandarin following a growing increase of students from non-English speaking backgrounds.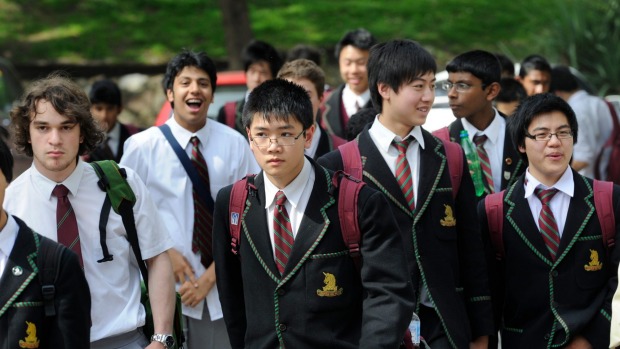 NSW Department of Education figures show 56 per cent of students - or 2311 pupils - accepted into public selective schools in 2012 have a language background other than English.

This includes more than 80 per cent of students enrolled at Baulkham Hills High School, Girraween High School and Sydney Boys High School.

One mum from Sydney Girls High School said receiving the latest newsletter in both Chinese and English showed the school has a high proportion of Asian students.

"I have nothing against people working hard to get into a selective school but I would estimate that over 90 per cent of kids who get into the top schools have to have coaching in order to get in. This means the naturally smart kids don't have much of a chance unless they too are coached."

"The statistics are quite stark," Dr Christina Ho, senior lecturer in Social and political change at the UTS said.

"There are some big social questions that need to be asked about why this is happening and what the social implications might be."

One major contributing fact, Ms Ho said, was that migrant children were more likely to be tutored for selective schools tests from a young age.

"If you look at the outcome of the selective school test, then that would seem to indicate that," Dr Ho said.

Dr Ho said selective schools were too focused on academic results, adding the state government should make changes to include more "holistic" testing methods.

Tutoring Mark Caleo who tutors 10 and 11-year-old students for selective exams said only 20 per cent of his students are Anglo-Australians.

"We tutor a lot of Asian students," Mr Caleo said.

"It happens because these parents are more interested in their child's education.

"We see struggling parents and grandparents who find it really to pay their fees but they desperately want to give their children a good opportunity."
BRIANA DOMJEN (The Sunday Telegraph)