Just six years ago Parramatta Marist High School set an ambitious challenge for its Year 12 students.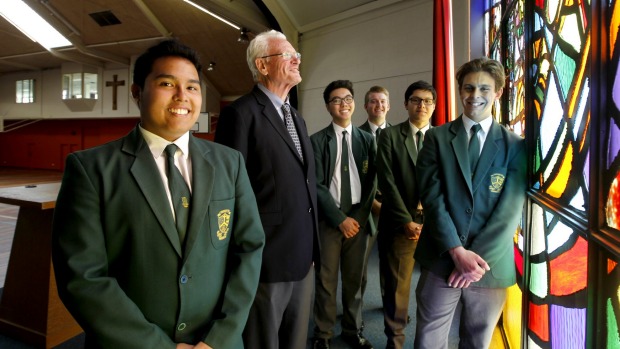 Principal Brother Patrick Howlett recalls his students achieving a mark above 90 in 99 HSC exams and wondering "if we would ever get to 100". This year they hit 208, more than one-quarter of all exams sat at the school.
The remarkable improvement saw the comprehensive low-fee Catholic school jump from 73rd in the state to 42nd on a list of the state's top-performing HSC schools, outperforming private schools such as The King's School, Scots College and Trinity Grammar.
Movers and shakers
These schools from the top 100 climbed or fell the most in 2014. (Excludes schools that sat fewer than 150 exams)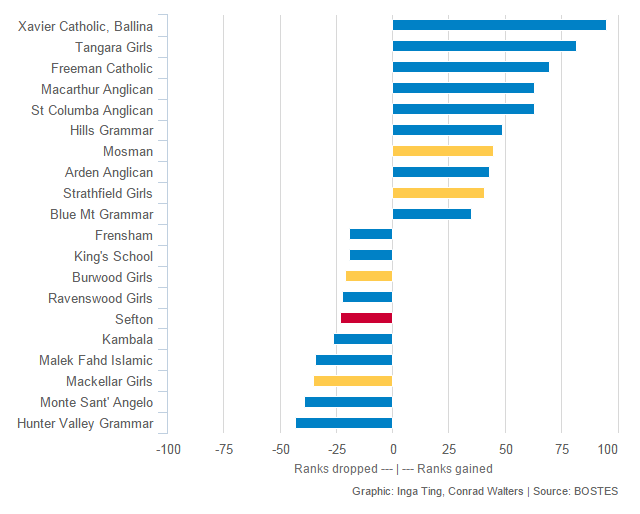 Selective high schools were the top performers, with James Ruse still in the No.1 spot, followed by North Sydney Boys and North Sydney Girls.

Of the top 20 schools in the state, 12 were selective public schools and eight private schools. The highest ranked private schools were Abbotsleigh at No.10, Sydney Grammar at No.11 and Reddam House at 12.

Willoughby Girls' High School was again the top-performing comprehensive public school at No.57, followed by Killara High School at No.64 and Cheltenham Girls High School at No.73.

Almost 76,000 students received their HSC results on Wednesday, with more than one-third of all students scoring above 80 in at least one subject.

The results give students a good indication of what to expect on Thursday when their Australian Tertiary Admissions Rank (ATAR) is released.

This year, 1251 students received a mark of more than 90 in at least 10 of their HSC units and, although 52 per cent were girls, the boys delivered their best performance in this category.
HSC 2014 Top Schools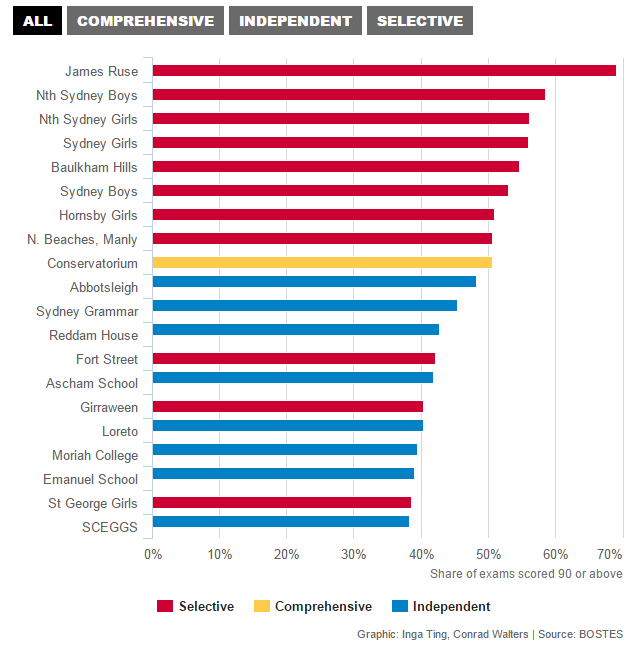 The president of the NSW Board of Studies, Teaching and Educational Standards, Tom Alegounarias, said the strong performance from girls was not unexpected but their success could give insight into how boys could improve.

"It's higher again at the highest level for girls than for boys and the only thing we can read into it is it an international phenomena, not just in Sydney not just NSW or Australia, but all OECD economies," Mr Alegounarias said.

Among the most improved schools were Tangara School for Girls in North Ryde, jumping from 128th to 46th, Mosman High (141 to 98) and Blue Mountains Grammar School (71 to 36).
Top 20 scorecard
 Who improved and who fell between 2013 and 2014 (Excludes schools with fewer than 150 HSC exams taken. Girraween's full 27-point rise not show.)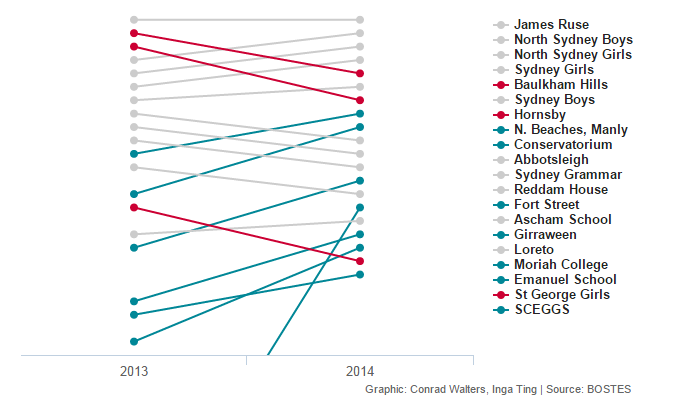 Parramatta Marist, one of Australia's oldest schools, has a long history of strong academic performance but Br Howlett was not prepared to coast on that reputation.

"The question was how we could do better," said Br Howlett, who has worked as a teacher since 1967. "Every principal has a responsibility to improve a school."

It was this conviction that encouraged him to take a gamble in 2011 and shift the way his Year 12 students were learning with a 'flipped classroom' approach.

Students now study their subject content as homework and classroom time is set aside for lively discussions and putting knowledge into practice.

Lessons were also stretched from 50 minutes to 100 minutes.

"If we went back and taught the traditional way we would not have achieved these results," Br Howlett said.

Not only did they bolster their high achievers, but they have also lifted struggling students.

In 2007, 29 per cent of their HSC marks were below 70, a rate which dropped to 9 per cent this year.

Gabriel Salonga was elated by his results, which ranged from the 70s to the 90s.

"It was all through preparation and Marist really helped prepare us to apply all our knowledge and be calm in stressful situations such as exams," the 17-year-old said.
Amy McNeilage and Alexandra Smith (Sydney Herald Morning)